Rhode Island Car Accident Attorneys
Offering Skilled Counsel for Victims of Serious Auto Accidents
While there is promising evidence that car accident rates have decreased over the years, there are still thousands of life-altering crashes involving cars, trucks, and motorcycles every year. Many innocent drivers continue to suffer catastrophic injuries and permanent disabilities because others on the road are engaging in distracted driving, drunk driving, and other negligent behaviors.
When you've been involved in a car accident – no matter how minor – it can be incredibly traumatic and result in severe injuries. If you or a loved one was injured in a car crash that wasn't your fault, you have the right to receive compensation for any damages you have sustained.
For more information on your rights and options after a serious auto accident, call (401) 200-4059. Your consultation is free, and you pay nothing unless we win your case.
Why Hire a Car Accident Attorney?
Rhode Island is an "at-fault" state when it comes to car accident claims, which means the injured party may file a claim against the at-fault party's insurance company. Unfortunately, insurance companies are often motivated to minimize claims so that they can avoid large settlements.
The Rhode Island auto accident attorneys at Decof, Barry, Mega & Quinn, P.C. are not afraid to negotiate aggressively with the at-fault party's insurance company to secure a fair settlement for your injuries. When negotiation fails to bring a reasonable settlement, we do not hesitate to take a case to trial. We know how important a fair settlement or award will be as you begin to put the pieces of your life back together after a serious auto accident, and so we will spare no effort to secure the best possible result. Don't wait to give us a call.
"I feel very blessed to have had you in my corner, and want to thank you for bringing my case to the best possible conclusion. You forever have my professional respect and my sincere personal gratitude." - Linda S.
Compensation for Car Accident Injuries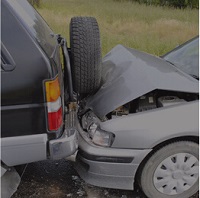 After a car crash, you may be grappling with permanent or long-term changes to your health, mobility, career, and family life. Many car accident injuries will require years of treatment and significant financial resources to heal, as well as sustained psychological counseling and rehabilitative assistance.
Auto accidents can lead to a wide range of injuries and debilitating conditions, such as:
Lacerations, scrapes, and wounds
Broken and shattered bones
Neck injuries and vocal cord paralysis
Internal bleeding and hemorrhaging
Whiplash
Herniated discs and displaced joints
Post-traumatic stress disorder (PTSD)
Filing an insurance claim or a civil lawsuit against the at-fault driver may often be the best way for victims to get the resources or "damages" they deserve after a crash caused by negligence.
Rhode Island Shared Fault Laws
Every state handles fault for car accidents a little differently. In Rhode Island – which is an at-fault or "tort" state – car accidents are evaluated on the principle of "pure comparative negligence." In essence, this means that you can still file a car accident lawsuit against a negligent driver even if you were somewhat responsible for the crash. However, your share of the compensation will be reduced by the percentage of your participation. For example, a person ruled 10% at fault for an accident can only receive up to 90% of the requested damages.
It's also important to understand what counts as negligent behavior while driving. Negligence on the road can look like:
Driving under the influence of drugs or alcohol (DUI/DWI)
Distracted driving and texting
Road rage and aggression
Tailgating (following too closely)
Failing to obey traffic signals and stop signs
Improper merging or signaling to merge
Speeding
Failing to look when backing out of a space
From our offices in Providence, our Rhode Island auto accident lawyers help victims of car, truck, motorcycle, and pedestrian accidents across the state. Our experience in this arena of personal injury law is diverse. Our legal team uses our familiarity with a wide range of motor vehicle accident cases to benefit our clients, as we can more easily identify the cause, assign liability, and ascertain the true value of a case.
Car Accident FAQs
When should I involve a car accident attorney?
It's best to contact an attorney as soon as possible after you've been injured. An attorney can guide you through conversations with the insurance company, ensure you receive appropriate medical care, and collect evidence to support your claim. If you've already started a claim with the insurance company, it's not too late to involve a lawyer. Our firm is ready to hear about your case today!
How much is my accident case worth?
The purpose of a car accident injury claim is to compensate the victim for damages they incurred as a result of their injuries. Those who sustain greater damages are therefore entitled to more compensation, in most cases. However, there is no algorithm for calculating the value of a car accident case, so you should always work with an experienced attorney who understands the true worth of your claim.
How long do I have to file a car accident claim?
Rhode Island has a three-year statute of limitations for claims involving bodily harm from a motor vehicle accident. The statute of limitations begins the date the accident took place. If you do not file your lawsuit before the statute of limitations expires, your claim will be rejected, so it's crucial that you begin working with an auto accident attorney as soon as possible.
Will I have to go to court?
Car accident cases are almost always settled outside of court. In fact, only about 5% of all personal injury cases ever go to trial. Trials can cost you unnecessary time and money, so they are not usually advantageous. However, if there is disputed fault or damages in your case, you can count on our experienced team to fight for your best interests in court.
Get Started on Your Case Today!
The Rhode Island car accident lawyers at Decof, Barry, Mega & Quinn, P.C. have helped hundreds of clients injured by negligent drivers in this state. Our team has the experience to protect your rights and get you the full compensation you deserve. By explaining all your legal options and advocating for appropriate recovery, we aim to help you heal from your injuries and find peace of mind for the future.
Contact us at (401) 200-4059 for a free consultation today.