Cranston Personal Injury Lawyers
Dedicated to Helping Victims of Severe Injuries
When faced with a serious injury or the tragic loss of a loved one, you deserve exceptional legal representation. Holding the responsible party accountable can be challenging, as you may encounter various obstacles along the way. From downplaying the worth of your claim to outright denial of liability, large corporations and insurance companies often make it nearly impossible for unrepresented individuals to obtain a fair settlement. A Cranston personal injury lawyer will level the playing field, empowering you to pursue the compensation necessary for your recovery.
Serving Cranston, the team at Decof, Barry, Mega & Quinn, P.C. proudly represents the entire population of Rhode Island. We handle a wide range of personal injury and wrongful death cases, including medical malpractice, birth injuries, catastrophic injuries, and more. Since our establishment in 1975, we have achieved unparalleled success in holding negligent individuals and corporations accountable for their actions. When you require assistance, Decof, Barry, Mega & Quinn will be there for you from start to finish.
---
Discuss your case with a Cranston personal injury attorney today. Call (401) 200-4059 now to request your free consultation!
---
What Is Considered a Personal Injury?
A personal injury refers to any harm or damage suffered by an individual as a result of someone else's negligence, intentional actions, or strict liability. Personal injury cases encompass a broad range of accidents, incidents, and circumstances in which an individual sustains physical, emotional, or psychological injuries.
Our Areas of Practice Include:
Personal Injury
Airplane Accident
Car Accident
Construction Accident
Premises Liability
Motorcycle Accident
Truck Accident
Wrongful Death
Medical Malpractice
Catastrophic Injury
Brain Injury
Spinal Cord Injury
Birth Injury
Product Liability
Professional Malpractice
Legal Malpractice
Carbon Monoxide Poisoning
Don't Delay - Reach Out to a Cranston Injury Lawyer Today!
There is a time limit for filing personal injury claims. In Rhode Island and neighboring Massachusetts, the statute of limitations is three years from the date of the accident. Once this period expires, you will forfeit the right to seek compensation for your injuries and other damages. The longer you wait to contact an attorney, the closer you come to this deadline, and the more challenging it becomes for your lawyer to build a robust case based on evidence. By promptly involving an injury lawyer in Cranston, you increase your chances of maximizing the value of your claim and recovering the highest possible compensation.
Recovering Damages for Your Injuries
In Rhode Island, personal injury victims may be entitled to various types of compensation, also known as damages, depending on the specific circumstances of their case. The types of damages that can be recovered in a personal injury case include:
Economic Damages
These are monetary losses that can be objectively calculated and quantified. They may include:
Medical Expenses: Compensation for past, present, and future medical treatment, including hospital bills, medication costs, rehabilitation expenses, and therapy sessions.
Lost Wages: Reimbursement for income lost due to the injury, including missed workdays, reduced earning capacity, and potential future earnings.
Property Damage: Compensation for repairs or replacement of damaged property, such as a vehicle in a car accident case.
Non-Economic Damages
These are subjective losses that are not easily quantifiable in monetary terms. They may include:
Pain and Suffering: Compensation for physical pain, emotional distress, and mental anguish experienced as a result of the injury.
Loss of Enjoyment of Life: Compensation for the inability to participate in activities and enjoy life as before the injury.
Loss of Consortium: Compensation for the negative impact on the victim's relationship with their spouse, including loss of companionship, affection, and intimacy.
Comparative Negligence Principle
Rhode Island follows the principle of "comparative negligence." This means that if the injured party is found partially responsible for the accident or their injuries, their compensation may be reduced proportionately. However, if the injured party is found to be more than 50% at fault, they may be barred from recovering any damages.
Personalized & Tenacious Representation in Cranston, RI
Throughout the past four decades, we have achieved numerous successes on behalf of our clients across all our practice areas. Our recoveries for the injured and wronged have exceeded $1 billion. While each case is unique, and outcomes cannot be guaranteed, we are fully committed to securing the best possible result for every client we represent.
With our extensive experience in a diverse range of personal injury cases, we are well-prepared to safeguard your interests.
---
Don't hesitate to seek assistance—discuss your case with a personal injury lawyer in Cranston today. Call (401) 200-4059 now to request your free consultation!
---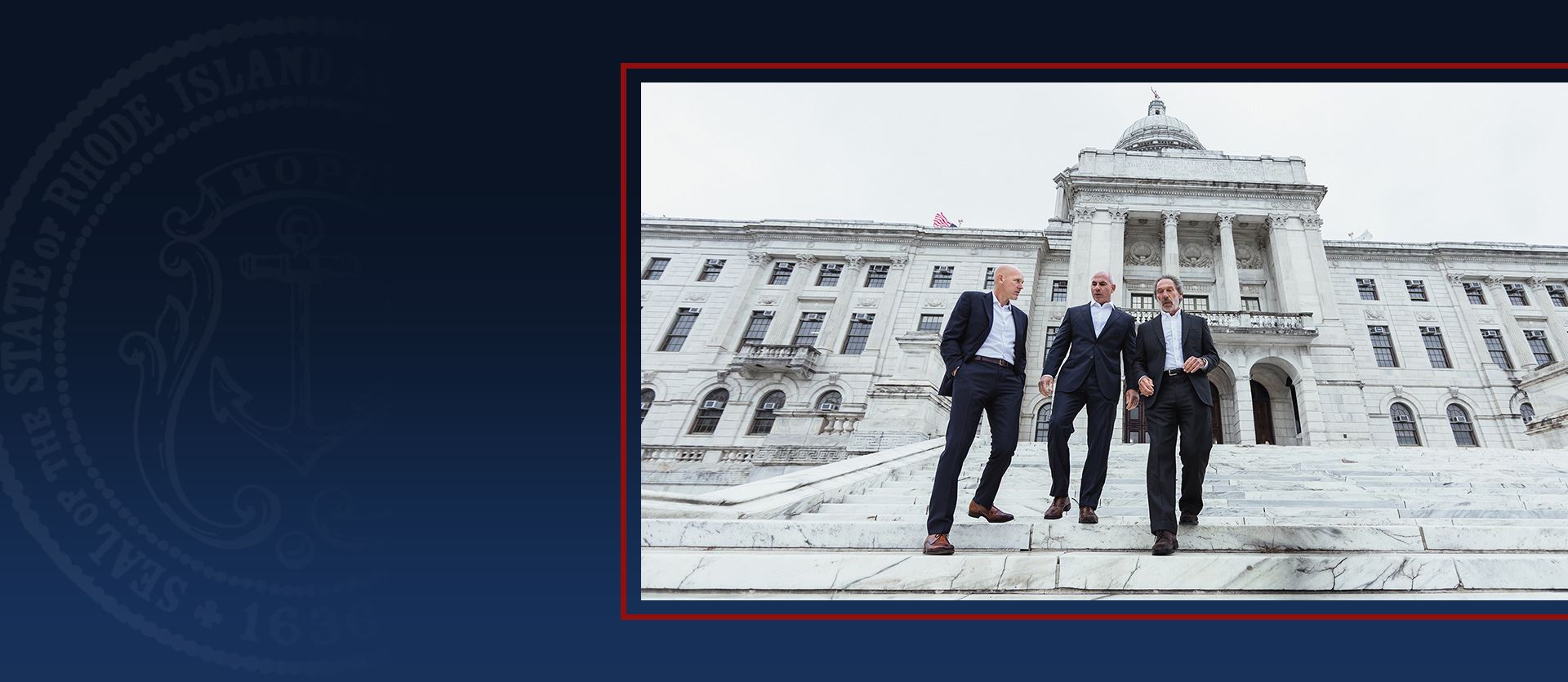 Schedule a Free Consultation