Rhode Island Medical Malpractice Lawyers
Holding Healthcare Providers Responsible for Negligent Care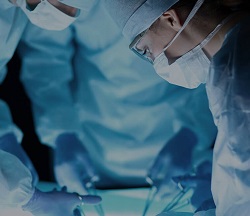 When healthcare providers fail to adhere to accepted professional standards, tragedy often occurs. Medical negligence cases, also known as medical malpractice cases, require extensive skill, experience, and dedication.
What Makes Us Different
No fees Unless We Win!
200+ Years of Combined Experience
Over $1 Billion Recovered
Highly Recognized in the Legal Industry
The Rhode Island medical malpractice attorneys at Decof, Barry, Mega & Quinn, P.C. have the knowledge and resources necessary to hold doctors, hospitals, and other providers accountable for their medical mistakes.
Find out more about your rights as a patient and how our medical malpractice attorneys in Rhode Island can help you. Call (401) 200-4059 for a free consultation.
Over $1 Billion Recovered for Victims of Negligence
Our team of medical malpractice lawyers in Rhode Island has obtained multimillion-dollar verdicts and settlements against doctors, nurses, surgeons, anesthesiologists, radiologists, psychiatrists, dentists, and pharmacists—and with hospitals, hospital staff, and other medical professionals, as well—for numerous injuries caused by medical malpractice.
$61 Million - Medical Malpractice
Largest medical malpractice verdict in Rhode Island, as of 2017, for the victim of medical negligence that led to right leg amputation.
Medical Malpractice Can Occur in a Variety of Ways
Medical negligence can happen during the course of routine procedures and life-threatening emergencies alike. Our firm has represented clients who have experienced the following and more:
Cardiac/heart complications
Emergency room malpractice
Negligent medical care of infants and children
What Clients Have to Say About Us
"I feel very blessed to have had you in my corner, and want to thank you for bringing my case to the best possible conclusion. You forever have my professional respect and my sincere personal gratitude." - Linda S.
What is Medical Malpractice?
Medical malpractice occurs whenever a health care professional causes an injury to a patient via a negligent act or omission that violates the standard of care. Anytime a doctor, hospital, or other provider makes a mistake that another professional would not have made under similar circumstances, they are violating the standard of care. To have a valid medical malpractice claim, you must also prove that this violation caused your injury and that your injury led to significant losses.
What Kinds of Damages Can I Recover From a Medical Malpractice Lawsuit?
When you file a medical malpractice lawsuit, you may be eligible to receive general, special, and/or punitive damages.
General damages are designed to compensate you for any suffering you endured as a result of medical malpractice. These damages include physical and mental anguish, loss of enjoyment of life, and loss of future earning potential.
Special damages seek to cover expenses you accrued because of medical malpractice. If you were severely injured, you likely had subsequent treatments and missed a fair amount of work. Special damages aim to reimburse you for these costs and medical bills and make sure you have the funds to cover any future medical expenses and/or rehabilitative care.
Punitive damages are rare in medical malpractice cases, but they exist to punish any medical professional who was behaving knowingly or intentionally. Not only do these damages provide you with additional compensation, but they also make an example of whoever harmed you to discourage similar behavior in the future.
Who Do I Sue in A Medical Malpractice Case?
This is an excellent question and one of the most difficult for us to answer without reviewing your case. Essentially, who you file suit against will depend on where and how you were hurt. For example, if you were harmed in the hospital, you might not be able to sue the institution directly. Instead, you would file suit against the doctor that hurt you, who was likely working as an independent contractor. There are, of course, exceptions to this rule, and you may be able to file suit against a hospital if you were harmed in the emergency room or by an incompetent or dangerous doctor.
In many cases, supervisors and employers must accept responsibility for a medical professional's behavior. One instance of this involves nursing errors. If a nurse makes a mistake with medication, you will probably have to file against the attending doctor or the facility they work for.
Rhode Island Medical Malpractice Laws
It's important to understand the medical malpractice laws in your home state. In Rhode Island, a person who is injured by medical malpractice will need to comply with basic rules.
Here are some basics to consider if you're claiming medical malpractice:
The case must be filed within three years of the occurrence of the medical error or initial discovery of the injury.
Rhode Island does NOT impose a cap on economic or non-economic damages.
This state follows"pure comparative negligence" standards which allow an injured party to recover a monetary award in a medical malpractice case IF it can be proven that they were more than 50% responsible for an injury.
Hiring a skilled medical malpractice attorney can help you focus on recovery rather than the logistics of your medical malpractice case. There are many important deadlines to consider when bringing forth a personal injury case of this nature, so contact one of our Rhode Island medical malpractice lawyers today to schedule a consultation.
Get Started on Your Case Today!
Victims of medical malpractice have the right to bring at-fault healthcare professionals and facilities to justice. In the face of the physical injuries and emotional trauma malpractice can cause, victims have a way to recover financial compensation that not only helps them secure the care they need and rebuild their lives, but holds at-fault parties accountable.
Highly technical in nature and with the burden of proof on the injured patient, medical malpractice cases are not easy to win. It takes hard work, experience, and the resources to go up against large medical malpractice insurance providers to negotiate a fair settlement or earn a courtroom victory. Our firm is equipped for such a challenge.
Call Our RI medical malpractice attorneys at (401) 200-4059 today to discuss your case and your legal rights during a free consultation.