Pilot Errors
Rhode Island Airplane Accident Attorneys Representing Victims & Their Families for Over 40 Years
Although flying remains the safest mode of transportation, many commercial airline pilots are overworked. So far, humans are still piloting commercial airliners – and humans are not exempt from making mistakes. But a pilot's mistake can mean dire consequences for the souls aboard an aircraft.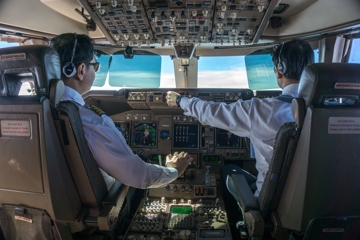 Here at Decof, Barry, Mega & Quinn, P.C., our Rhode Island airplane accident lawyers have logged over 40 years of successful aviation litigation practice, including accidents caused by pilot error. Our legal team has a reputation for achieving outstanding results for victims of airplane accidents, and we're here to help you and your family if you've similarly suffered.
For more information, please contact us online or call our Providence, Rhode Island office at (401) 200-4059 to schedule a free consultation with one of our aviation accident advocates to discuss your case.
What Are the Causes and Consequences of Pilot Error?
The number of plane crashes that directly result from pilot error is not insignificant. Major incidents can occur at any point of the flight. Aircraft take-off and landings are especially risky because the human pilot assumes complete control throughout those maneuvers.
In general, pilot error can result from simple mistakes, inexperience, impairment and/or incompetence. Specifically, the following conditions can increase the risk of pilot errors leading to an airplane accident:
Illness. Any major illness that can compromise a pilot's mental and physical capacity;
Medication. Pharmaceuticals can dull a pilot's senses and undermine their awareness;
Stress. Stress can impair a pilot's judgment and distract from their performance;
Alcohol or drugs. It goes without saying that alcohol and narcotics can significantly compromise a pilot's perception and judgment;
Fatigue. A barely-conscious, sleep-deprived pilot cannot perform essential duties during flight;
Emotion. Like stress, certain emotional or psychological conditions can disrupt the pilot's ability to methodically carry out flight procedures;
External distractions. A pilot's attention can be diverted by unnecessary radio chatter, cellphone use, personal conversations, and eating or drinking;
Miscommunication. Improper communication can lead to a confused flight crew or misunderstandings with air traffic control (ATC) regarding revisions to take-off and/or landing procedure, flight path modifications and course corrections, or important weather information; and
Failure to observe protocol. Flight protocols are established to reduce and/or eliminate risks by ensuring that flight crews carefully operate all aircraft.
Retain a Skilled Aviation Litigator in Rhode Island
Airplane accidents resulting from pilot error often lead to fatal or life-changing consequences. With such high stakes, aviation litigation can be an intense and complex process. Additionally, aviation litigation can involve multiple parties, including major airline companies, insurance providers, state and federal agencies, and administrative bodies such as the National Transportation Safety Board (NTSB). Moreover, aviation attorneys must carefully analyze a broad spectrum of legal issues regarding state and federal laws and regulations.
Luckily, at Decof, Barry, Mega & Quinn, P.C., our Rhode Island airplane accident attorneys have over 4 decades of experience litigating airplane accidents involving pilot errors. We are dedicated to obtaining relief for our clients and holding those responsible for an airplane accident accountable for their reckless or negligent conduct.
Contact us online, or call at (401) 200-4059 for a free consultation with one of our airplane accident lawyers in Providence, Rhode Island.